SEA OF LOVE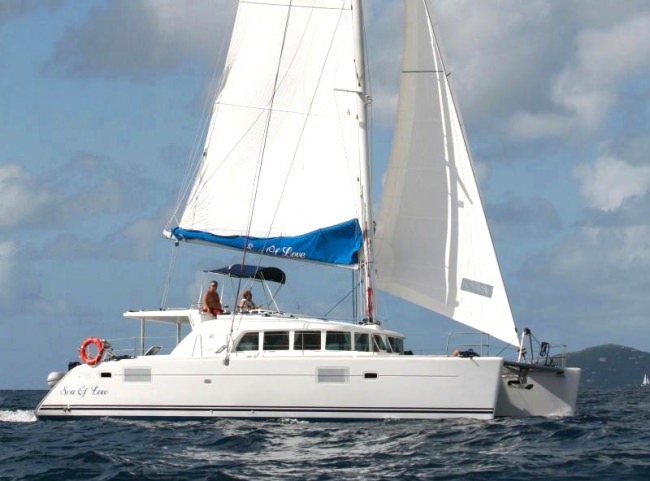 Click Images to Enlarge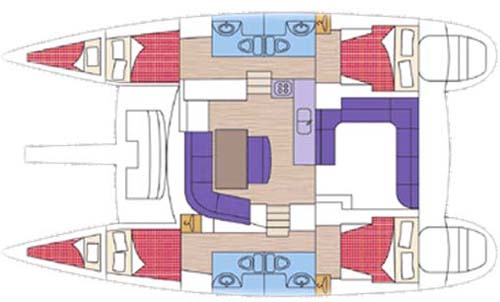 2 Stand-Up PaddleboardsSea Of Love sports a 1600 watt solar array and almost never runs her
generator during the day ...
| | |
| --- | --- |
| Length: | 44 |
| Guests: | 8 |
| Cabins: | 4 |
| Crew: | 2 |
| Queen: | 4 |
Crew Profile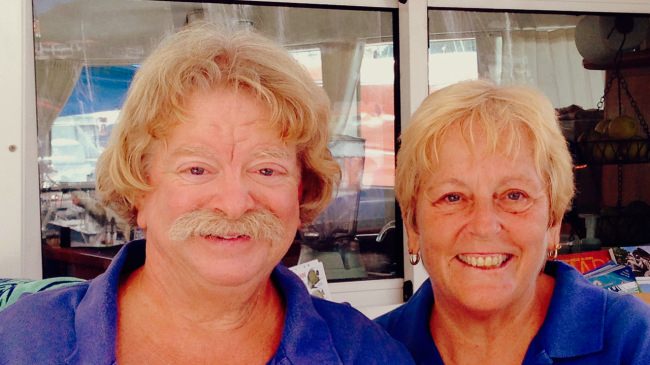 Captain Joe Cazana has been sailing for the past 35 years. He learned to sail in 1975 after not being able to sail back the rental hobie cat and then the next day capsizing the same.rental cat in the channel off Waikiki Beach in Hawaii. He thought lessons might be a good idea.
Soon after the lessons he began bareboat-chartering in the BVI. Much like most bare boaters we see today, he didnt have all that much experience. However he was a quick learner, he always brought the boat back and never capsized again.
In 1985 he began diving in the BVI recognizing the beauty of this whole new world opening up underwater. He traveled all around the Caribbean exploring its beauty.
So year after year of sailing he perfected his ability growing upon a wealth of experience. He began doing deliveries from NY to the BVI and back and does them to this day.
In 1992 inspired by his success he felt it would be nice to share this great sport with others and became certified by the ASA (American Sailing Association). He taught sailing on the Hudson River n NYC and also in Long Island Sound off City Island.
In 1994 he again, impressed with his abilities thought to get his Captains license as it would enable him to share his better boating experiences with others by sailing a boat for them as in being a charter boat captain in the BVI.
Well time went by as the wife was not ready to move south. Capt Joe in his on gong spirit to contribute to the sailing community joined in 1999 the NYPD Harbor Auxiliary and patrolled the NYC waterways, watching for boaters in distress. In 2002 Capt Joe moved his services to the Coast Guard Auxiliary as he was more interested in boaters in distress than catching that occasional bad apple in NYC.
Recently Capt Joe, hearing a call for help from Reef Check BVI, brought along his diving experience and answered with the same desire to contribute and protect those very reefs that brought so much pleasure to him and the people he entertained in the BVI.

Carol began sailing in 1995 with several sailing clubs in the NYC area. As her passion for sailing grew, she bought her first sailboat a 1982 Dufour 35 ft monohull. along with her husband Capt. Joe Cazana. Together they sailed around the NY area, in the Hudson River and Long Island Sound. In 2006 she bought her 2nd boat, a 44 ft Lagoon catamaran for charter sailing in the BVI. Carol with a flair for cooking has augmented her talents with many courses at the Culinary Institute of NYC.

Specifications
| | |
| --- | --- |
| Type: | Cat |
| Length: | 44 |
| Power Cat: | N |
| sizeFeet: | 44.0 Ft |
| sizeMeter: | 13.4 m |
| Beam: | 25 |
| Draft: | 4.25 |
| Units: | Feet |
| Pax: | 8 |
| Cabins: | 4 |
| Queen: | 4 |
| Year Built: | 2006 |
| Vcr Dvd: | Yes |
| Salon Stereo: | Yes |
| Num Cds: | 4000 songs |
| Board Games: | Yes |
| Cam Corder: | No |
| Num Dine In: | 6 |
| Sun Awning: | Yes |
| Hammock: | No |
| Wind Scoops: | No |
| Deck Shower: | Yes |
| Bimini: | Yes |
| Special Diets: | Yes |
| B B Q: | Yes |
| Gay Charters: | Yes |
| Nude Charters: | Yes |
| Hair Dryer: | Yes |
| Num Hatch: | 22 |
| Guest Smoke: | transoms only pls |
| Guest Pet: | No |
| Children Allowed: | Yes |
| Generator: | 11Kw |
| Inverter: | Yes |
| Water Maker: | No |
| Water Capacity: | 240 gals |
| Ice Maker: | No |
| Dinghy Hp: | 40 |
| Dinghy Pax: | 6 |
| Adult W Skis: | No |
| Kids Skis: | No |
| Jet Skis: | No |
| Wave Run: | No |
| Knee Board: | No |
| Wind Surf: | No |
| Gear Snorkel: | 10 |
| Tube: | Yes |
| Scurfer: | No |
| Wake Board: | Yes |
| 1 Man Kayak: | 2 |
| 2 Man Kayak: | No |
| Float Mats: | No |
| Swim Platform: | 2 |
| Dinghy Sailing: | No |
| Games Beach: | Yes |
| Fishing Gear: | No |
| Under Water Cam: | No |
| Under Water Video: | No |
| Crew: | 2 |
| Crew Smoke: | No |
| Crew Pets: | No |